As hosted by Empire alum Taraji P. Henson, the 2020 American Music Awards aired on Sunday, and there was a variety of memorable performances from artists like Justin Bieber, Shawn Mendes, BTS, and Megan Thee Stallion. However, it was Jennifer Lopez's performance with Maluma that really got fans talking on Twitter, though it wasn't entirely because of how steamy it was. Rather, fans couldn't help but notice the stark similarities between Lopez's sultry performance and a previous award-show performance from Beyoncé, and they were quick to call the former out for being a supposed copycat.
Jennifer Lopez joined Maluma onstage at the American Music Awards to perform their songs "Pa' Ti" and "Lonely," but it was Lopez's catsuit, short-and-showered hairstyle, and her overall vibe that gave fans a lot of visual flashbacks to Beyoncé's "Drunk in Love" performance from the 2014 Grammy Awards. One fan on Twitter didn't mince words when calling out Lopez.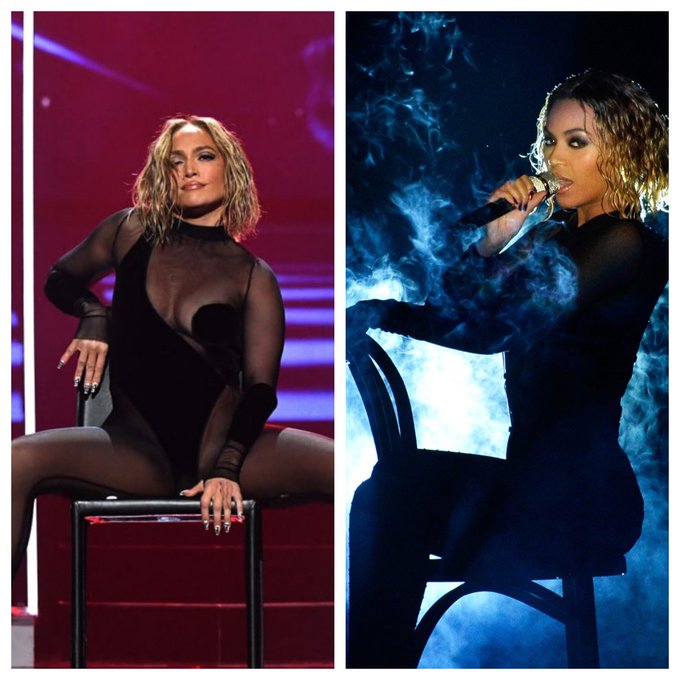 Meanwhile, some viewers argued that Jennifer Lopez was channeling moments and costumes from Flashdance and Chicago – there were bars onstage akin to the style of the "Cell Block Tango" performance. However, many others weren't very convinced by those defenses. One viewer even alleged that this wasn't the first time Jennifer Lopez had emulated Beyoncé for a big performance. Take a look!
Another viewer got a bit creative with their tweet, posting several images from Beyoncé's "Drunk in Love" performance with Jay-Z while congratulating Jennifer Lopez and Maluma on a job well done.