Roman Reigns has been slated to compete at Crown Jewel 2023. As of now, WWE is yet to build up a feud for The Tribal Chief for the event, but some of the names which are potential challengers are Jey Uso, Cody Rhodes, and The Rock (even though The Rock vs. Roman Reigns has been teased for WrestleMania 40).
Apart from the Undisputed WWE Universal Champion, it has been reported that the sports entertainment giant is attempting to bring football star Cristiano Ronaldo in for a guest appearance. Ever since he signed with Al-Nassr, Ronaldo has become significantly popular among the Saudi Arabian crowd
Since WWE is popularly known for its ability to bring global celebrities into the ring to face off with champions, one can expect to see Roman Reigns and Cristiano Ronaldo both appear at Crown Jewel 2023.
Both athletes have achieved a significant amount in their respective sports. Here are five similar facts and achievements about Roman Reigns and Cristiano Ronaldo:
---
#5. Roman Reigns and Cristiano Ronaldo share the same birth year
Interestingly, both athletes share the same birth year, only with a couple of months of difference in their birth dates.
Football star Cristiano Ronaldo was born on February 5, 1985.
WWE Superstar Roman Reigns was born on May 25, 1985.
As of writing this, both athletes are 38 years old.
---
#4. Excellent ratings in video games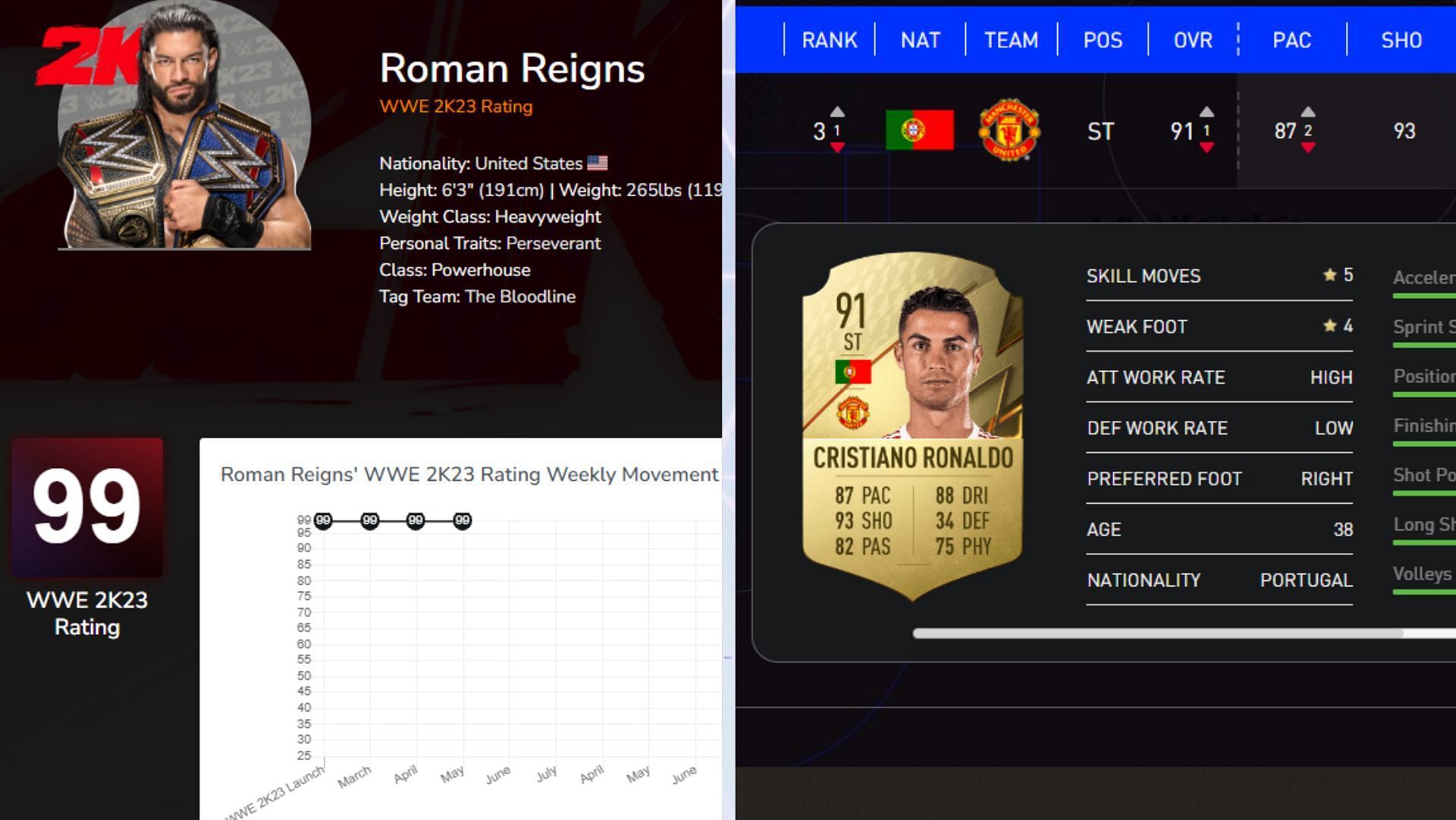 WWE and football both have video games available for various gaming consoles. WWE's most popular video game is the 2K series while football's most popular game is the FIFA series.
As of writing this, Roman Reigns has a rating of 99, as per 2K's ratings. On the other hand, as per FIFA's rating, Cristiano Ronaldo has an overall rating of 91.
---
#3. Consistently appearing in the Top 5 in their sport's accomplishments
The top accomplishment for an active WWE Superstar is being a world champion within the company. The Tribal Chief has held that position within the company for over 1110 days, a record which is the longest of the modern era and in the top 5 of all time. He secured the Universal Championship at Payback 2020 by defeating Braun Strowman and Bray Wyatt and he secured the WWE Championship at WrestleMania 38 by defeating Brock Lesnar.
Coming to football, securing the Ballon d'Or trophy is among the top accomplishments in the sport alongside winning the Champions League, becoming the world's most expensive player as well as other achievements.
Cristiano Ronaldo has secured the Ballon D'Or award five times, won the Golden Boot four times in his career as well and winning the Champions League an impressive five times as well.
---
#2. Both part of prominent trios in their respective sports